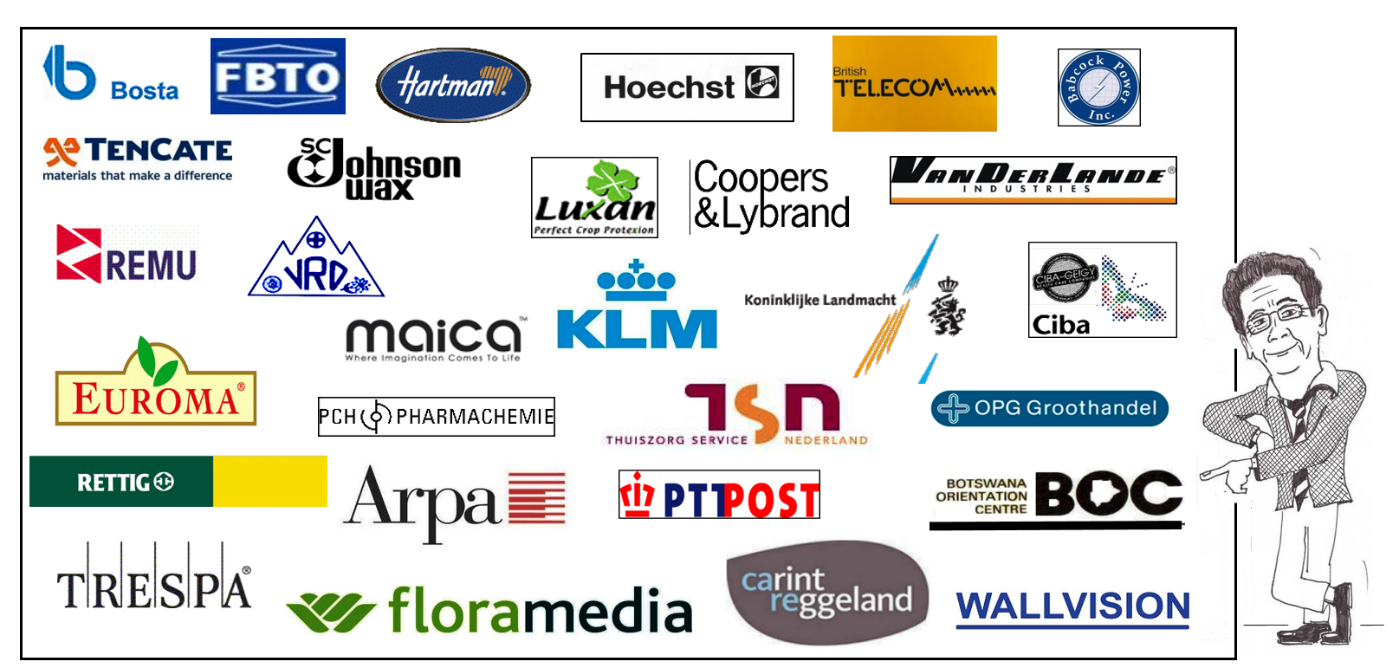 ORGANIZATIONS & PROJECTS
2008 – Today
European manufacturer of heating sytems (radiators)
A quick scan of their present way of planning, production and distribution of the production plant(s) and an assessment of the feasibility to support the ambitious improvement targets on reduction of delivery times, improvement of service levels and decrease of cost.
Manufacturer and wholesale company of materials for the building, kitchen and furniture industry (Malaysia & Singapore)
Development of a masterplan to improve profitability, increase service levels and support the expected growth of both the two factories and the nine wholesale outlets. The main topics were to decrease working capital by lead time reduction, concentration of manufacturing capabilities, the introduction of consignment stock (delaying tax), product portfolio and life cycle management (i.e. controlled introduction and phase out of products and stock) and elimination of multiplication of data (entry).
The assessment of their present information systems in the light of the strategic ambition and compiling a Statement of User requirements to execute a software selections for an ERP package. Followed by a software selection of an ERP system for all companies to replace 16 legacy systems.
Establishing a lab prototype environment to model the near future that is amongst others:
replacement of 16 nonintegrated legacy systems
the introduce MRP planning per item
to model SFC planning by production batch of multiple items and orders
centralization of non and slow moving stocks for the wholesale company and differentiation in lead times according to delivery program for the whole group
introduction of DRP and the automatic replenishment of stock
Product costing over the total internal supply chain (the chemical plant, the production plants, the central hub and the outlets).
Health and care organization
(Intra and extra mural care operating on a provincial level, with significant portfolio of real estate) Strengthen the strategic vision and from there designing the new organization structure that would enable the organization to cope with the expected demographic variables (aging of the target population and decline in available staff) and the unsteady hap hazard ever changing policies of government in the future in a sustainable way.
European group of publishers and printing companies (plastic and paper)
An evaluation (audit) of a former project looking into what was the original idea, what was achieved and what should be done to 'go for gold' and achieve operational excellence.
Manufacturer of furniture materials (Italy)
Analysis and development of an improvement program aimed at increasing delivery reliability, selectively differentiating lead times and overall reduction of cost(prices). Designing a migration path whereby the operations organization could step by step start using SAP that was only implemented for sales and finance.
Herbs, spices, soups and dressings company
Define and realize sustainable performance improvement for two sites with the existing ERP-package (LN i.e. former Baan), infrastructure and organization.
Reevaluation of the value proposition and reassessment of customer offering;
Introduce standard differentiated offering in order to support selectively deliver services that add value and are paid for: i.e. standard vs fast ordering, standard, premium and penalty sales order pricing, billable order services and a closed packaging cycle (swap, invoice, sell & buy back);
Improve MRP-planning;
Modify the forecasting and order acceptance methodology and introduce two level MPS;
Realize almost full transparency of the effort per customer and the comparability between them;
Introduce closed loops ( getting better gradually);
As a byproduct a lot of old issues were solved amongst others the reduction of free services rendered and the reduction of rented pallets.
European group of publishers and printing companies (plastic and paper)
Improve bottom line results and delivery reliability, by development and implementation of:
a consistent and integrated delivery program for Europe;
introduction of routings, lead time and capacity determination at order entry;
Order acceptance process within 24 hours (instead of 3 to 6 days);
Order item validation (check on correspondence with the rules of the delivery program, availability of capacity and validity of product material information (pdf, punching tools etc.));
Integrated production registration and planning;
Rough production smoothing by introducing off peak production of stock items;
Road map to further improve profitable operational excellence.
(Systems used CERM, Exact, MS Dynamics, Access and excel)
Software company
Assessment of the testing organization in relation to the rapid development of new releases and increased variety of customized solutions.
Home care organization
Quick scan (trouble shooting) of the cumulating organization and ICT problems of a large multi company home care organization and developing a proposed solution..
Catering company
Supporting management in strategy, tactics and restructuring of their 13 outlets servicing their one and only customer resulting in the setup and execution of an exit scenario to minimize losses.
Coaching & training
On a limited basis coaching was offered to directors and managers (strategy, content & process). A business process improvement game (Legostiek) including also elements of Activity Based Costing was reinvented. Guest and co-lecturing was given at a Junior Business Course.
1992 – 1995
Producer of high pressure laminates (14 months fulltime)
Interim Management: Master Production Planning (MPS)
Introduction of the MPS-planning methodology by a self-developed Forecasting, Master Production Schedule and Rough Cut Capacity planning (PC application) Defining essential modifications to the SAP system to establish a workaround for the nonexistence in SAP of MPS.
Implementation of the planning functionality of SAP/R2 (MRP).
Defining essential modifications to the SAP system to establish a workaround for the nonexistence in SAP of MPS.
Regional Utilities company
Defining the logistics concept and drawing up a Statement of User Requirements (S.O.U.R.) for the software selection.
Insurance Company (Direct Writer)
Business Process Redesign of the workflow of a department (11 sectors). By applying the paperJIT methodology (Business Process Redesign voor office logistics) establishing a significant reduction in elapse time, needed capacity and improvement of quality.
Pharmaceutical wholesaler
Execution of a 'second opinion' on a strategic investment proposal, regarding the construction of a new central warehouse and the implementation of a new DRP-system in order to introduce an 'overnight' delivery system within the Netherlands. Including the assessment of whether the new policy could be implemented (for the time being) with the present infrastructure.
Regional Utilities Company
Development of a logistic training's program for middle management and work force.
Airline
A second opinion on the plans to centralise the processing of Airway Bills at the 'transito unit' at the main hub.
Procurement combination
Facilitating the process to develop a Purchasing policy and establishing the planning process.
Producer of garden furniture
Supporting the software selection for a new ERP system.
International producer of sorters, conveyors and warehouse equipment
Producing a Statement of User Requirements (S.O.U.R.) for the use and implementation of the already bought and partly in-house used JDEdwards systems and the separate 'project management' system Artemis. Mainly responsible for the financial aspects and interfaces on Project and product costing, valuation of turnover, Manufacturing Accounting, intercompany billing etc.
Management game 'pagodes' (lego)
Gespeeld bij diverse fabrikanten, krijgsmacht, sociale werkplaats, telecommunicatie bedrijf, bedrijfskundige leergang, nutsbedrijven, ABC-seminars Customers: various industrial companies, the joint staffs of air force, navy and army, telecom company, management schools & ABC-seminars, utilities companies
C&L Focus
Chief editor and lay-out & illustrations of a quarterly magazin on Manufacturing & Distribution by Coopers & Lybrand Management Consultants.
1985 – 1989
Producer of boilers (England)
Implementation of a general ledger package of MSA. Responsible for the evaluation and implementation of the new report-writer Information Expert
Telecommunication company (England)
Implementation of a fixed assets ledger (ACE) from PPL. Responsible for the preparation and execution of the test data load.
International Audit firm (6 month fulltime)
Office automation project.
Development and implementation of hardware (local area networks, PC-stand-alone's, portables and peripherals), software and user procedures. Setting up (and temporary management of) a supporting unit (a/o. helpdesk).
Producer of computers
Quick scan on organisation and procedures. Development and implementation of short term actions.
Royal Dutch Army (9 months fulltime)
Reorganisation of the total organisation from a functional to a product orientated organisation structure. Execution of Priority Budgeting methodology.
Producer of colour pigments and dispersion products (15 months fulltime)
Implementation of ERP package BPCS. Implemented modules: Inventory, MRP/MPS, Bill of Materials, Shop Floor Control, Purchasing, Order Entry, Forecasting and Costing. Important subjects: project planning, 'tailoring' of the package, data conversion, training, procedures, interfaces with the existing financial systems, and liaison with headquarters in Switzerland for costing, fade out of the existing business systems.
Producer of Aerosols and Personal care products
Introduction of a 'charge out' policy for warehouses, distribution planning and quality control.
Producer of Pharmaceutical products (12 months fulltime)
Defining essential modifications on the (tailor-made) commercial system of the parent (wholesale) company to adept the software for the two production locations and to integrate it with the new ERP package and the Automated Warehouse Management-system
Implementation of the ERP package of Hoskyns (MCS) on two production sites. Implemented modules: Engineering Control, Inventory, MRP/MPS, Shop Floor Control, Purchasing, Forecasting, Material Lot Tracking and Costing
Producer of Insecticides and Herbicides
Feasibility study into the applicability of MRP-II-methodology and software.